There's nothing like a Great British Wedding – Champagne, Strawberries, Roses, Laughter…. and looking around the woodlands and meadows I can almost taste the summer coming – the local farmers swear there is a single day when the earth wakes and all the grass starts growing, from there it is only a short hop until the air is buzzing and our sons friends nag to come and play cricket in the meadow. It's not me being romantic or misty eyed, it's how it happens.
This got me thinking how we started weddings – it all started when two of Tim's very close friends asked to get married at Middle Coombe Farm – they were the best ever and everyone said you must do weddings! So we rebuilt our lovely Cider Barn for the legal ceremonies and offered our traditional "old man of the woods" ceremony under the old oak tree – exactly where Tim's friends chose to "Tie the Knot". Those weddings and every one ever since have been totally magical with not a dry eye in the audience. Reflecting on our weddings we are lucky to have so many facets for couples to use and explore over their wedding weekend – with accommodation, pool, hot tub, woodland, meadows, cider barn and more making it a successful time for families to come together.
From the day of Tim's first friend's wedding, we knew that it was possible to create a Great British wedding at Middle Coombe Farm.
Now, we have carefully built our scrapbook of wedding ideas is full of amazing British and local suppliers that simply know how to make a wedding!
Here are just a few of our favourites that make a truly British wedding!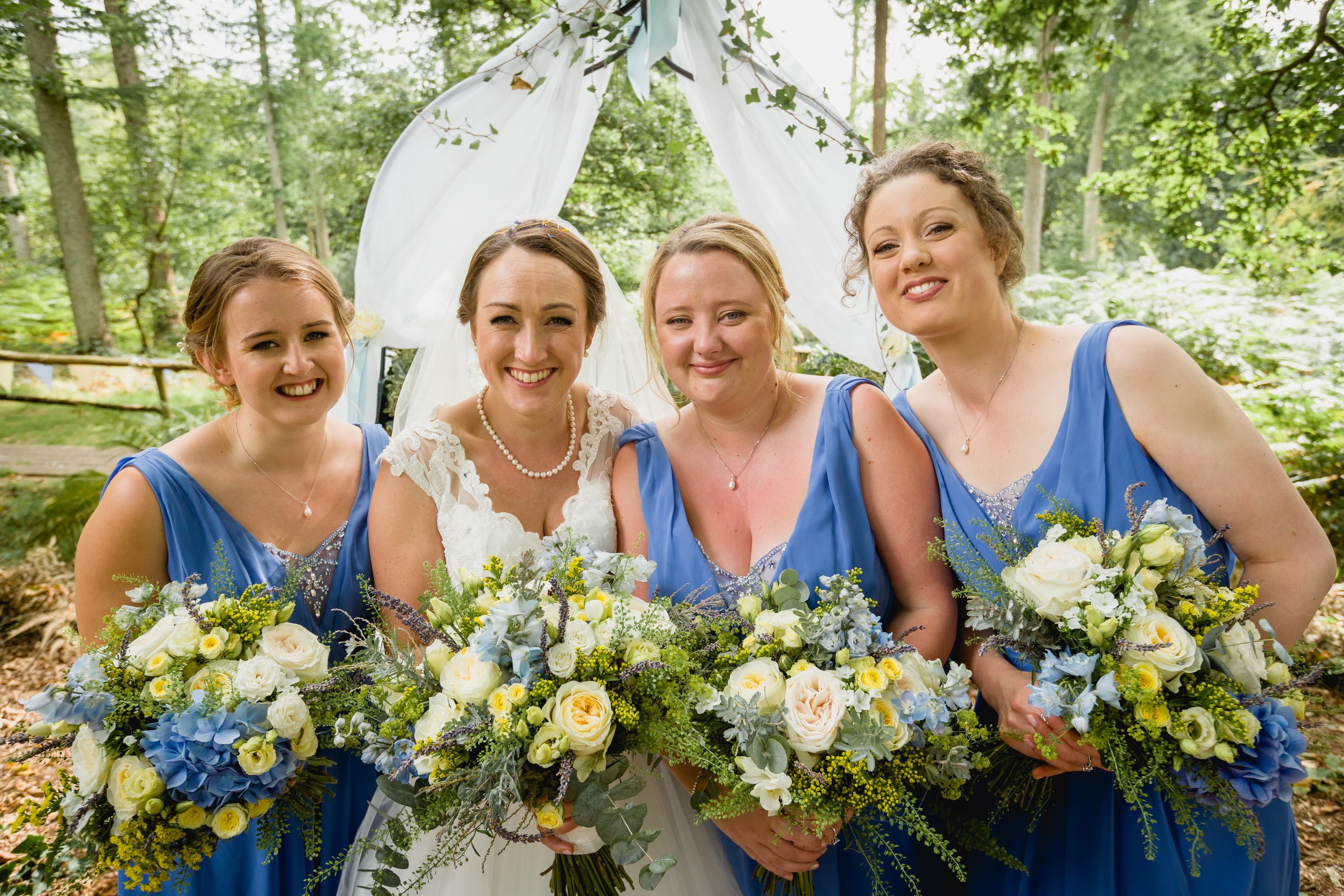 #flownnotgrown
The Great British Florist, Heather Gorrenge, has it covered. And YES you can have colourful bouquet harvested in the UK – all year round. Whether it is Grape Hyathinths and fressias (one of my favourites) in the spring peonies, roses and sunflowers in the summer or dahlias and sedum in the autumn there are vibrant colours to be had. For winter bouquets she suggests eryngium mixed with Senecio cineraria which is naturally dusted silver.
And don't forget every Middle Coombe Bride is welcome to take foliage for her bouquet from our garden, meadow or woods for that special touch.
Beautiful British Gowns
With so many British designers to choose from Britain certainly has talent. It is rumoured that they may be the best in the world – so why not look closer at designers such as Jenny Packham, Alice Temperley or Amanda Wakeley. Each has their own unique signature, so take the time and fun to try lots on!
Buy Local
The wedding breakfast is the obvious place to start – with more than half our food coming from abroad the food can travel miles, yet with an organic beef heard and traditional orchard we know that looking closer to home can pay off. Just a stones' throw from us is the wonderful Yearlstone Vineyard, whose wine tastings will not leave you disappointed. Our famous scrapbook also contains ice-cream sellers, hog roasts, private caterers and more – and we have had the pleasure of tasting the lot! Other local friends include people like Bamptons Beautiful Bunting and Icicle Tricycle a classic 1920's ice-cream tricycle that is a real crowd pleaser!
And of course….
The Venue
With rolling Devon hills, cool woodlands, hazy meadows and the chocolate box farmhouse Middle Coombe Farm is quintessentially English… whether you celebrate your union with cucumber sandwiches or pie and chips we promise a weekend to remember.
For those of you wondering, I have to confess Tim and I eloped to the Isle of Scilly. Now we love it when we host elopement wedding under the trees or in the farmhouse – and share the moment with the happy couple.