Stroll around or loll about on the grass, listen to passing insects buzzing around the many flowers or have a picnic on one of the lawns. In summer you can swim in our solar heated swimming pool or lounge in our out door hot tub!
Front garden
To enter the house walk past the ancient cider barn and then under the Gatehouse arch where Tim and Angela and Sofia and Finbar live (the owners). You'll immediately find yourself in the secluded front garden with mown lawn, children's swing and a gorgeous variety of flowers. and shrubs. Along with the rear courtyard a good area for dogs to roam.
 Courtyard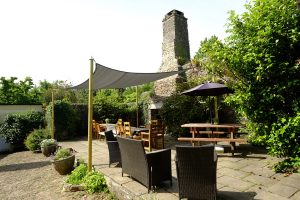 Originally there was another house behind the main farmhouse – a 'bothy' or servants' quarters. That's long gone now but what remains is a beautiful cobbled courtyard with massive old functioning stone chimney, bread oven, fig and grape bushes, magnolias, camelias. Perfectly equipped for morning breakfasts or evening bbq's – a large outdoor wooden table and chair set are always out there as well as a family sized bbq.
Main garden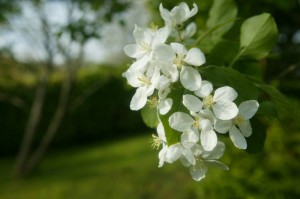 Stroll out through the back courtyard door and enter a paradise of bushes, shrubs and trees with glorious views down the valley and across to our willow patch, thence into fields and the woodlands. Dawn and dusk, or dimsey as westcountry folks say, you may spy a fox making his way out across the field, or deer, or buzzards wheeling overhead. Summer night-times you're sure to hear owls in the woods, or see bats against the sky.
Vegetable garden & bees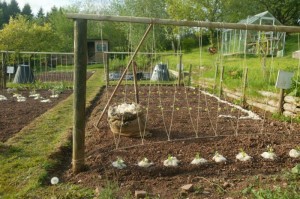 At Coombe we grow a lot of organic vegetables in our gardens. We vegetables garden is permaculture based and worked on by local friends in our community – sometimes we have availability depending on season and demand. The veg garden also unobtrusively houses our solar tubes and PV solar electricity plant. We generate our solar hot water from this part of the garden to help reduce our carbon footprint.
Bees are always buzzing around Middle Coombe Farm as Tim Malyon (the owner) is an avid bee keeper.
The Goyle
This is a magical little valley leading up away from the farm and into the woodlands. There's exotic camellias and magnolia, bluebells, primroses, towering douglas fir trees, swamp cypruses, gonnera bushes, hostas, rare orchids; a pond and bridges across a little stream that gurgles down the valley.
On a late summer's evening if you move quietly you might even see badgers in the valley. We encourage guest to explore the grounds and woodlands as part of their stay.
Bridleways and footpaths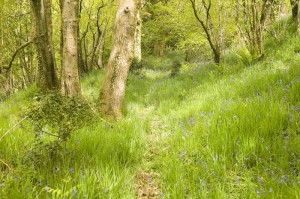 In partnership with Countryside Stewardship we have opened up over eight kilometres of footpaths and bridleways through the woods and fields. They are signposted with arrows and maps and we can also suggest walks to suit children and older people. The woods are spectacular in spring when the bluebell are out. If you would like to view a printable map showing the walks in details then click on the following link. Please be aware this is a high resolution image designed to be printed and viewed. It may take a few moments to download – right click here to download >>