The large farmhouse kitchen has been recently renovated but has a wonderfully cosy feeling about it. There is seating for 16 comfortably or 18 with a squeeze. The massive ancient oak window has recently been beautifully renovated affording a cosy spot to sit and read. We have just completely renovated the kitchen and put in a huge range with induction top.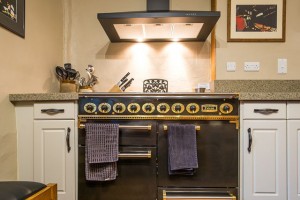 For 100s of years pots and pans have sizzled on the range while merry laughter and voices fill the air. Corks pulled from bottles and piping food served at the great table for many festive occasions. Many groups squeeze another few people in at the corners of the table to bring the seating up to 20! 

Next to the kitchen is an old-style slate larder with 2 tall fridge-freezers – plenty of room to stock up for the summer BBQ or a warm winter feast.