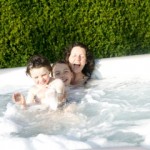 From May-September the swimming pool is open, heated by a large solar system which also heats the hot water and assists the central heating in the main house. Luxurious wide steps lead into the clear, warm water and sunbeams bounce off the bottom and sides of the pool. The wonderful large eco hot tub (seats 6) is situated right next to the pool and is open all year round. Both are set inside private hedged  gardens with a changing house set at the back. Two outdoor gas showers are set next to the hot tub and pool.
This sunken garden with large swimming pool provides a wonderful retreat on a hot summer's day and in Autumn there is nothing like running from the back door of the house and plunging straight into the wonderful heat and bubbles of the hot tub.
Our pool open April/May to September depending on weather conditions. The Hot tub is open all year round.