14th September: Covid Update
Accommodation: Due to the latest guidelines only a maximum of 6 guests are permitted in each of our properties unless from within the same bubble. Please contact us for special 'Rule of 6' offers for the farmhouse.
Weddings: As a covid secure venue we are permitted to host a wedding ceremony and reception for up to 30 people. Please contact us for prices and available dates.
4th July Update
Following the government's announcement we are delighted that we can now welcome guests from the 4th July. Like everyone, the impact of Coronavirus has been huge here at Middle Coombe and while in lockdown we have been working hard to put in place procedures that the government guidelines request us to do as much as we can to safeguard our guests, families and team against the virus. We are delighted to have been awarded the Visit England industry standard for Covid-19 prevention and are now 'good to go'.
More than that, the grounds, woodland and farmland are looking the best they have ever done - the cottage borders are in full flower and the woodland trails are brimming with wildlife and echoing with birdsong – for us, like many of you noticing and spending time with nature has been by far the greatest gift of lockdown.
Sadly many of our weddings have been postponed to next year and we are very much looking forward to sharing the special day with each couple in the future. On the other side, this good news if you would like to holiday with us as we have some very limited availability over this summer (but less for next year so book any holidays or weddings with us early).
Finally we would like to thank all of you who have been so patient and understanding while we have navigated the lockdown and changing guidelines – your understanding has made a very difficult situation manageable.
With love
Angela, Tim and Clydie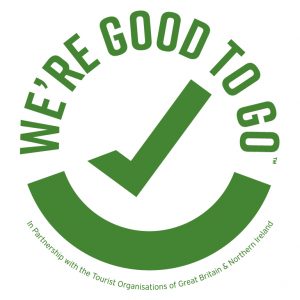 Visit England - We're Good To Go
We are delighted to have been awarded the Visit England's Covid Industry Standard "We're Good To Go"
The 'We're Good To Go' industry standard and supporting mark means that we can demonstrate that we are adhering to the Government and public health guidance, have carried out a COVID-19 risk assessment and have the required processes in place.
Which all means you can enjoy a worry-free holiday.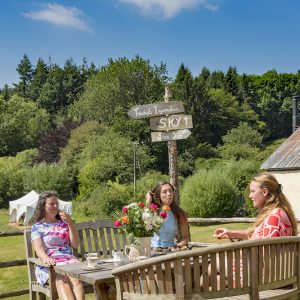 Information for Guests
The government guidelines have meant that we have made changes to our procedures.
Find our Risk Assessment here
Getting Married from July 4th
For weddings, the latest government guidance is that small wedding ceremonies and civil partnerships can be held from 4th July, with up to 30 people including suppliers, photographers and officiant.
They advise that that only small receptions with two households are permitted indoors or six people from different households outdoors.
If you would like a wedding with us within these guidelines we would be honoured to share your special day.