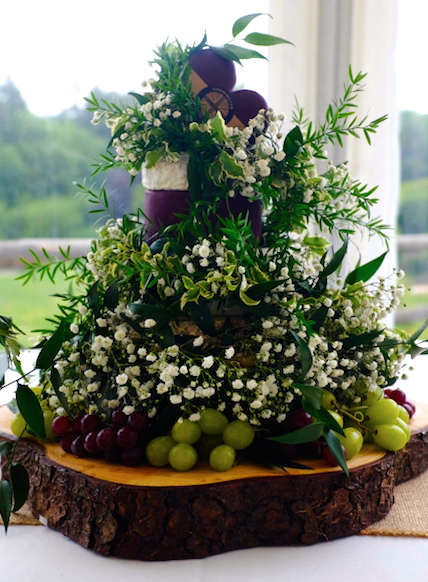 We can help arrange wedding services both in-house or from providers in the local area. We provide the following services ourselves, available on request:
Summer Love Shack for the bride and groom.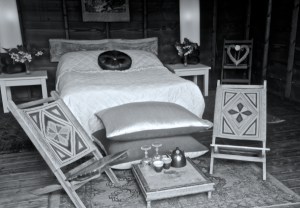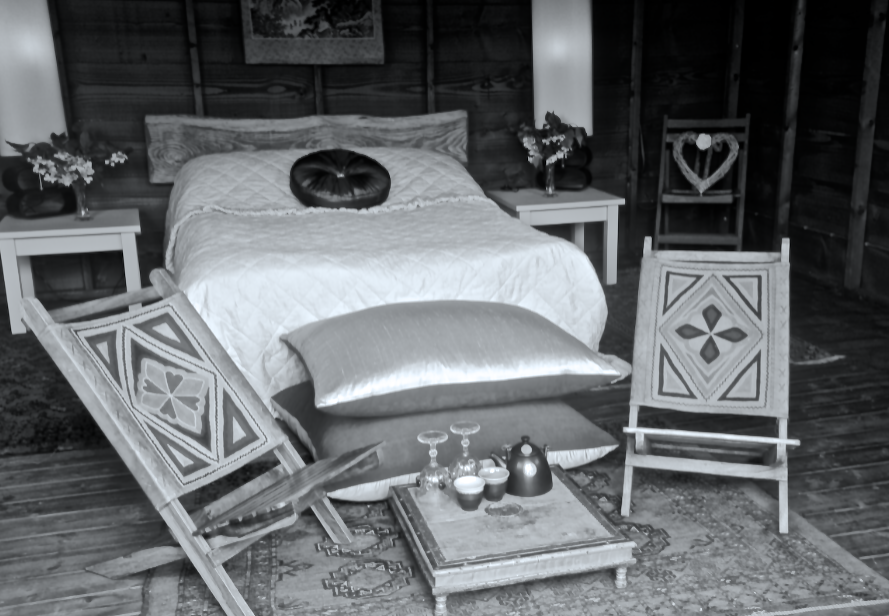 Our cute Love shack contains the following:

A double bed which is made up with linens for your stay.
2 x large floor cushions
Tibetan low table & wall hanging
Electric kettle – tea and coffee.
Picnic basket with cups, plates and cutlery
Lights – 2 x tall lamps and 1 overhead light
1 x wind up torch
Towels 2 x shower and hand towels
Water basin and jug
Mirror
Large drinking water container
2 x low chairs
2 x small electric fan heaters & one wood burner electric effect fire/heater
1 x electric hair dryer
All on a wooden base with rugs
The Summer Love shack has 2 windows & large glass doors to let the outside in.
Below is a list of other recommended services our guests have used:
Tiverton Registrar: 01392 385070
Celebrants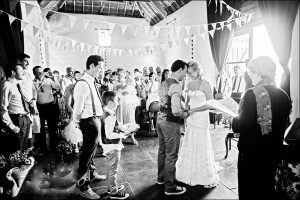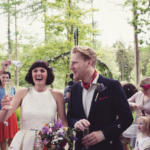 Alison Orchard – Conducts Humanist (non-religious) ceremonies,tel: Crediton 01363 774971. tel:07734 154607 website: http://humanist.org.uk/alisonorchard/
Levannah Morgan – Pagan Handfasting Celebrant. tel: Tiverton 01884 266725  e-mail: 

[email protected]

Marilyn Purchase – Interfaith Minister, Barnstaple – Contact: 01598 763416   e-mail:  

[email protected]
Tent & Marquee hire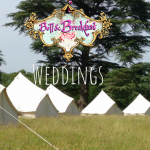 Bell & Breakfast-Bell tents for hire. Beautiful bell tents & excellent service. Contact Carlotte: 07970 196816. Check out their fabulous website: www.bellandbreakfast.co.uk. Email:[email protected]

Native Tents-Luxury bell tent hire pitched and for your convenience. Excellent local service. Native tents offer traditional, high quality canvas Bell tents, with chic furnishings, providing a glamorous alternative to usual camping. www.nativetents.co.uk They come highly recommended. tel.07810 698929
Bellabode Bell Tents – Your Family and Friends can all stay on-site in a mini tent village and you'll be offering a practical and memorable way of spending real quality time together. Website: www.bellabode.co.uk Contact Aileen Tel: 07890 458649 or Jackie: 07969 797771 Email: [email protected]
Over the Moon Tents & Events – music, lighting, décor and tent hire – even though they are not local they offer an amazing package. Tel: 07979 784797 website: www.overthemoontents.com, email: [email protected]
 Wedding Caterers
As a self-catering venue you will need to book a professional outdoor caterer/firm for your wedding day. You may well already have several ideas for who is going to provide the food for your event. Below is a list of local caterers that frequently supply weddings at Middle Coombe Farm: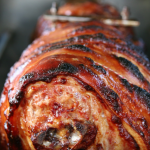 Pam & William Roffe Silvester – Lower Coombe Farm (part of Middle Coombe Farm) offer organic hog roasts from a very local source. Hog roast to die for. They can also cook organic beef as a beef roast on a spit. This organic beef is from their own herd, reared on the farm, you don't any more local then that!! Pam & William can provide beef in various cuts for the wedding meal and thereafter for BBQ's for the following days etc.  They can be contacted on Tel: 01884 820994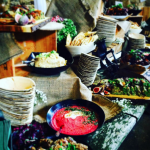 Fego Food Company-Wedding Catering in Devon. Modern event catering in Devon & Cornwall. Giving beautiful ingredients an inspiring personality;  making food which can tell stories. Together we deliver creative menus which celebrate your own personal, individual and wonderful tastes. Contact them through their website: Fego Food Company
Astridges- They prepare everything with a passion and commitment to local produce provide outstanding service at a down-to-earth cost.  tel. Paul on 07811 416254 website: www.astridgescatering.co.uk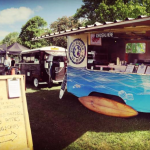 Your plaice or mine- superb, untraditional, urban chip shop van roaming the streets, popping up at events. Homemade, local, fresh produce. Sustainable and a sprinkling of banter. Highly recommended & absolutely delicious. Fabulous for relaxed Saturday weddings. mob. 07825 985855. See them on Facebook. website:www.yourplaiceormine.co.uk
Eat with Englands- Master caterers for all occasions and diets.With over 30 years experience in the catering industry, our chefs and events managers all have a passion for providing you with your perfect day. Contact Jane Englands: 01395 223802. website: www.eatwithenglands.co.uk
Organic Experience (previously Manic Organic) – event caterers tel: 01209. 890115, Mobile: 07800 648919. email: [email protected]
Dartmoor Kitchen -winners of 'West Country Wedding Caterer of the year' 4 years running  tel: 01395 239000, website: www.dartmoorkitchen.co.uk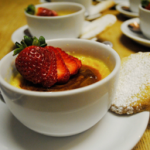 Feast without Fuss. Lucie has experience working for wedding couples at Middle Coombe Farm. Creating seasonal menus tailored to your taste using only the best local ingredients.  Contact Lucie Moore – mob: 07586 354278  website: www.feastwithoutfuss.co.uk
Posh Nosh – Creative Cuisine. Tel: 01392 444877 Email: [email protected] website: www.posh-nosh.co.uk
The above suppliers are experienced outdoor caterers. We do advise our wedding couples not to use caterers unless they are experienced in catering for outdoor events. All caterers are required to submit their Public Liability Insurance & Food certifications.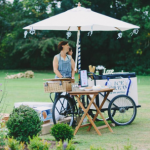 Icicle Tricycle – Classic 1920's ice cream bike and cart available to hire for your wedding.  More details on the website: www.icicletricycle.co.uk.  For more information and bookings contact:  Matthew or Rebecca Cooper on Crediton 01363 866278 or e-mail: [email protected]
Hitch-a-Fridge-Refrigerated Trailer Hire. Contact Rob Webb for bookings and information on 01363 773229 or mob: 07889 421028. email: [email protected]
Real Cheese Wedding Cakes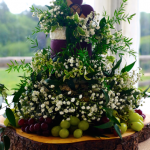 Country Cheeses Topsham – all British and mostly from the Westcountry. We feel ourselves to be very fortunate as we deal with the cream of cheesemakers who are driven to produce the best cheeses you could find anywhere, and who are also prepared to produce cheeses especially for us. Superb to deal with & can help you with the ultimate cheese wedding cake (wonderful for evening food on your wedding day). Please note you will need to supply any decoration/greenery to dress your cheese cake. website:www.countrycheeses.co.uk. Tel.01822 615035 email: [email protected]
Wedding Furniture-Further Options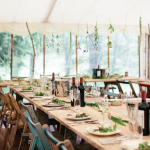 Virginia's Vintage Hire– For lovers of simple rustic chic. A carefully selected collection of vintage furniture & accessories designed to bring rustic charm to any occasion. Virginia is the person to use if you prefer to hire trestle tables for the marquee. Contact Ginny mob:07772 132875  email: [email protected] website: virginiasvintagehire.co.uk
Drinks
The Jolly Vintner- tel: 01884-255644. Selection of wines, etc, at great prices and will offer"sale or return" – therefore if you don't use it you can return it and will not be charged! We supply you with a "Bar" document detailing all your requirements to stock a bar, source all your local drinks, how to set it up etc.
Moorwine- Superb local supplier of delicious sparkling wine (ideal for your speeches & toasts), champagne, red & white wine. Tracy Brock has spent years searching internationally for wines that are utterly wonderful. Tastings can be organised at Middle Coombe. Amazingly, Moorwine can offer Sale or Return on your wedding wine/prosecco order. tel.01398 341406  Mobile:07970 567628  email:[email protected]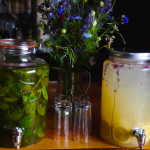 Rocktails-Glorious mocktails. Each of their blends are hand crafted using natural ingredients & super fruits to create four delicious crushes. Just freeze, squeeze & enjoy as a refreshing cocktail or add a dash of tipple to turn into your favourite cocktail. The perfect fuss free, sociable drink. Contact: Chris Yandell- [email protected] or Katie Bain- [email protected]. Website: www.rocktails.co.uk
Yearlstone vineyard – local vineyard that grow and produce their own wine, they also sometimes offer a bulk discount contact: Roger and Juilet White Tel: 01884 855700 Email: [email protected] Website: www.yearlstone.co.uke: www.moorwine.co.uk
"Just Change UK" – Tea supplied by M.C.F. For more information on this tea visit www.justchangeuk.org and www.justchangeindia.org (little things like just changing your tea can help make that difference the world needs – why not try it?).
Bloomberry juice Company – Local in Clyst Hydon, non alcoholic (but can be mixed!), no added sugars, 100% natural and no nasty additive! – It's just the BloomBerry way!  Contact: Chris & Sarah Jones  01884 277471  Mobile:  07793067638  email: [email protected] or [email protected] website: www.bloomberryjuice.co.uk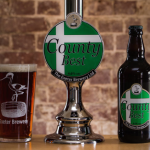 The Exeter Brewery- Since changing our name from Topsham & Exminster Brewery in 2008, we have expanded ever more rapidly. We now have a fantastic site in Cowley Bridge Road where we have a retail shop and Tap-Room Bar. Very helpful with their advice & delivery/pick up. Tel.01392 259059 email:[email protected]
Exmoor Ales- Beautiful local ales. Deliver to Middle Coombe Farm & are very helpful. website: www.exmoorales.co.uk or tel. 01984 623798. Tastings can be organised at their brewery site.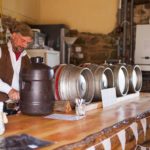 Topsham Ales- Topsham Ales is a micro-brewery with a difference providing good quality ales
whilst investing in the community and treading lightly on the earth. The brewery is a co-operative owned and run by members of the local community and our beers reflect Topsham's rich heritage. website: [email protected]
Flowers
We allow, all greenery to be picked from our woodlands but ask you not to pick flowers from our gardens and woodlands.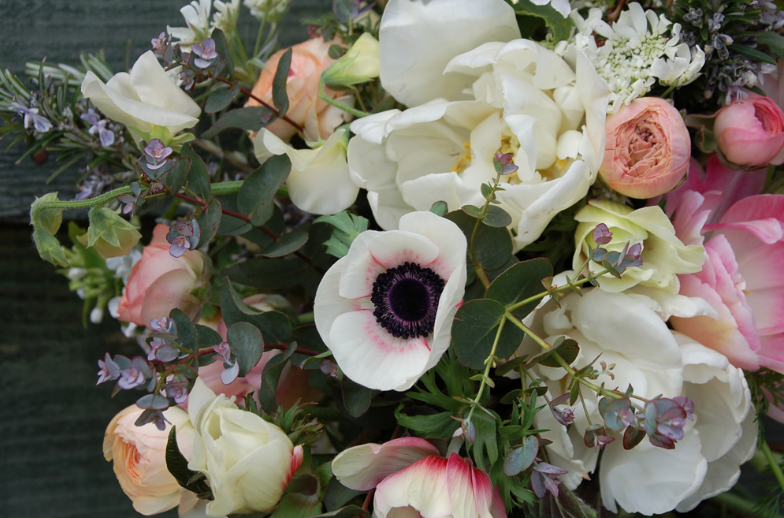 In Bloom Devon- (Highly recommended by Middle Coombe Farm). Seasonal, eco
flowers picked for your special day. We create hand-tied bridal bouquets, posies, buttonholes and arrangements for the church or civil ceremony venue. We can also deliver buckets of flowers for you to arrange.  InBloomDevon. tel.07813 138986 for Nicola & Jenny. email:

[email protected]

. To see how fabulous Nicola & Jenny are just go to this blog of Tamsin & Alex's wedding held here in september 2015.
Clements Farm– the Devon flower farm that specialises in growing wildflowers for DIY weddings in the South West.Perfect for those wishing to bring a more natural feel to proceedings. www.clementsfarm.co.uk. Contact: Richard James. tel. 01884 849329 or email:

[email protected]

.
The Flower Field – www.theflowerfield.co.ukWe believe in sustainably grown, season cut flowers that are grown without artificial fertilisers or pesticides and delivered without air miles.  tel: Claire 01404 814173  Mobile: 07964 586464  e-mail:

[email protected]
Jan Waters – JW Blooms. From a small, secluded field in Somerset, we grow traditional British cut flowers – all the old cottage-garden favourites from cornflowers, love-in-a-mist and deliciously fragrant sweet peas to snapdragons, old-English roses and sumptuous dahlias. Tel: 01823 660870 M: 07939 093249   e-mail: 

[email protected]
MeadowSweet-Flowers & Floristry-Own grown flowers for weddings, events & occasions. Contact: Emma Dixon on 07784 855998 Facebook: Meadowsweet Flowers & Floristry. email:

[email protected]
Decorations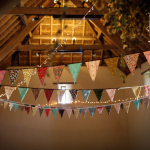 Bampton's Beautiful Bunting – Beautiful locally handmade bunting available to hire from 70p/metre.  Click here for more pricing information.  Contact: Gen Ottaway – Tel: 01398 331732   e-mail:

[email protected]

Balloons – Bio-degradable plastic balloons from – JT's Party House, Tiverton tel: 01884 233741  website: www.jtspartyhouse.co.uk
Hairdressers & Make-up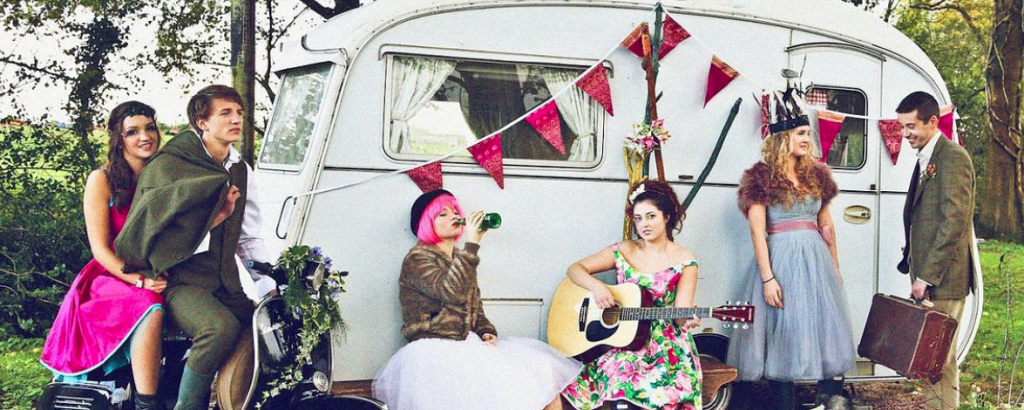 Photographers
My Fabulous Life Photography– Becky Joiner & husband Tim are photographers & film makers formerly based in Sydney & now based locally to Middle Coombe Farm. Do look at the stunning photographs & wedding film made by them last June for Alice & Kevin's fabulous wedding & our website blogs showing this wonderful event. Contact: Becky Joiner on 07966 090916 or contact her through the website: www.myfabulouslife.co.uk
Barefoot Photography– Weddings-Newborns-Rave Reviews. See Karinna's beautiful website www.barefootphotographyuk.com tel. 07855 969188 or email: [email protected]. Barefoot Photography are based very locally to Middle Coombe Farm.
Ellie Grace Photography– to see samples of Ellie Grace's work please see her website www.elliegracephotography.co.uk  tel.07969 762939 or email:[email protected]
Emma Case – to view a sample of her work see this page on our website Nick & Elise photos – https://www.coombefarmwoods.co.uk/photos/index.gallery.php?gid=6
website: www.emmacasephotography.blogspot.com email:  [email protected]
Emma Stoner – View Emma's wedding photography on her website: www.emmastonerweddings.com Tel: 07554 934750  e-mail: [email protected] Skype: missestoner
Freckle – Weddings and any occasion. Contact Emma Richardson Tel: 07870185277 E-mail: [email protected] website: www.frecklephotography.co.uk
Green photographic – Uses totally chorine free and, recycled paper and printed with Vegetable inks. Tel: 07966613086 Email: [email protected] Website: www.greenphotographic.co.uk
PA's and DJ's
Bish Bosh Sound – PA Hire, Sales & Service based in Bridgwater.  Contact Jim Hedges – tel: (01278) 434198, Mobile: 07789 391294  email: [email protected]website:www.bishboshsound.com
Electric Spank– Funk. Soul. Jazz. Contact Simon 07715 028190. email: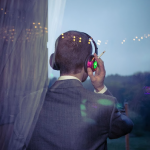 [email protected]
Discostew- Your disco your way. Contact Stewart Andrews 07791 038256 email: [email protected]
Eddy Mac DJ– Weddings. Private parties. Club nights. Residenceies. Check Eddy out at soundcloud.com/eddymacmusic. tel: 07843 472797 or email:[email protected]
Dance Hosts and Directories
Music for Dancing – Dennis & Olympeas Samuel:  Hosts for ballroom and barn dances.  Master of Ceremonies for weddings.  Ballroom dancing classes.  Directory of dance bands etc.  tel:  01803 299791  E-mail:  [email protected] website: www.musicfordancing.co.uk.
Music
Ceremony or background music.
Susan Sherratt-harpist. Susan is a wedding & orchestral harpist who has performed @Middle Coombe Farm this summer 2016. It was magical. tel. 01598 711810 mob.07970 071217 website:www.suetheharpist.co.uk or email:[email protected]
The Rosewood String Quartet – tel: 01803 863677, www.rosewoodquarter.co.uk
Scottish Bagpiper-Finlay McCleod. Finlay now lives in Devon and is an excellent piper. His website is www.devonpiper.com. mob: 07411 268568 or email using this link. Reasonable prices and lovely to deal with.
Bands
Barnstormers– A highly recommended local ceilidh band that can be booked for weddings. They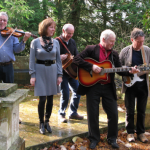 have a great "caller" and live up to their name. They will also let the musicians amongst your guests join in! Colin Wilson is the man to contact on 01392 882036, 07791 685 960, e-mail: [email protected], Website: www.barnstormersband.co.uk
Blue Jewel Ceilidh Band- great musicians & great music. contact. [email protected] mob: 07969 123346 – contact Kip Pratt – a really good caller, excellent ceilidh band.
Las Torders-classic Soul, Ska, Pop & Rock. Weddings. Parties. Festivals. Contact Ted Franklin. Tel.07798 845909 or email: [email protected]
Fitty Gomash – means ' to keep ones feet warm by dancing' and this wildly energenic Ceilidh band definitely do that. mob: 07945459176 or 07872958062 email: [email protected] Website: fittygomash.bandcamp.com
Lucy Lastic Band – barn dance with a caller, ceilidhs and traditional music tel: 01884.881385 or 840816 www.thelucylasticband.com (local)
Secrets – Chris Bridgeman   Contact: 01884.820541
Benandreu Band – Blue grass.  Contact:  01453 75123
Begasdgul – Celtic fusion, an alternative ceiligh band. Contact Jacquie Brown 01872 553138.
The Jazzberries – Ruth Culver email: [email protected]
MP3 downloads available at: http://www.arkade.co.uk/ruthie_culver or on iTunes. Featuring an eclectic mix of music from Piazzolla tango and latin jazz to satirical 1930's Berlin kabaret, Gallic chanson, swing, ballads & chill-out grooves.
The Amigos – (not local but excellent energy – they can bring in various ethnic drums and get the everyone involved, a massive mix of trad., funk, covers, their own music)  website:  www.jazzberries.co.uk click here for a PDF about 'the Jazzberries
The Big 3 – Rockabilly rhythm & blues – Bob tel: 0128836/398, Joe tel: 07834 394 392 email: [email protected] website www.thebig3.co.uk (south West)
Trefellas – playing celtic & original music.  tel: 01823 413975/257488 www.flaxey-green.co.uk/Pages/Groups/Trefellas.html website: www.myspace.com/trefellaslive
Jigs for Gigs – A Folk Dance Band.Tel: 01460 241326 Email: [email protected]
Eat the Rich – Devon's premier fiddle punk rock band. Contact: Matt: 07812246655 Liv: 07748166943           Email: [email protected] Website: www.myspace.com/eattherichuk
The Drat Pack – A versatile swing band, swinging their way through the classics and also very at home with motown, soul, funk and more up to date pop… 'Ensuring your evening goes with a bang as well as a swing'.Contact: Nick – 07747773634, or use the enquiry form on their website: www.thedratpack.co.uk Audio and video samples are also available for listening to on their website.
The Honest John Band -Playing varying styles of music… rock n'roll, trad jazz, swing, country, bluegrass, reggae, ska, funk, latin, 70's… any style you want.  View their band & samples of music on their website: www.honestjohnband.com
Contact Tim Herniman: Tel – 079671262136 or 0208 9654303 e-mail: [email protected] or use the enquiry form on their website.
The Alchemists – Tel: Woody on 01271 375723 or 07712 674 142   e-mail:  Ian Wood – [email protected] Website: www.alchemistsband.co.uk
Other Wedding related services
Dotty's Chair Covers – Dotty's wants your special day to be perfect so they offer a unique, stress free, personal service, tailor made to your individual needs. Tel: Charlotte. 07813 672576 website: www.dottyschaircovers.co.uk
VEGWARE: Biodegradable disposable plates, cups, bowls and crockery – Packaging made from plants.  Tel: 0845 643 0406.  Fax: 0845 508 1556  e-mail: [email protected] website: www.vegware.com
We can either arrange or provide information on all conceivable wedding related services. The pages on the menu to your left have all the information that you should need to know. If there is anything you can't find about or if you have something alternative you wish to enquire about then please contact us directly on our contact page here >>
Taxi companies.
Please note you will need to prebook taxis when attending weddings at Middle Coombe Farm.
Clints Taxi. 24 hour service. Private hire. Airport transfers. mob: 07934 993450
Taxis/Minibuses
Barrie & his minibus-Tel. 07951 209473
Kingdom Tours – mini bus & bus hire company from Tiverton tel: 01884-252373
Excellent for collecting all the guests staying at the local B&B's and driving them to the venue of Middle Coombe Farm, collecting them at midnight and dropping them all back to their individual B&B's.
Liz Cabs: Tel 07899 903314 They have an 4 and 8 seater vehicles. Inform them you are going to Middle Coombe and if it is a group they will give you a good deal.
A-2-B services Tel: 01884-251252 They have 4 & 7 seater vehicles.
Parkways Cabs – 01884 38899
Be & Js minibus – seats 14 for nightclub and pub runs or for what every you need, Reasonable prices contact Barrie: 07951209473 email: [email protected]
Fossil's taxis – local and long distance, competitive rates. Tel: 07824558999 email: [email protected]