The Farmhouse sleeps a comfy maximum of 15 people. We have a large dining table in the kitchen diner which everybody can fit around for main meals. The farmhouse is well suited for both parties of friends or for family get-togethers. It can flexibly sleep up to 15 people in a variety of single, twin and double beds and Allensdown Barn can accommodate a further 7 people.
For 100s of years pots and pans have sizzled on the kitchen range while merry laughter and voices fill the air. Corks pulled from bottles and piping food served at the great table for many festive occasions. Many groups squeeze another few people in at the corners of the table to make a real event! Next to the kitchen is an classic slate larder with 2 tall fridge-freezers – plenty of room to stock up for the summer BBQ or a warm winter feast.
We also have the library which is the perfect space for some quiet time and good for occupying guests of all ages on rainy days. Perhaps you can settle back to read an old classic, tinkle a few notes on the piano, play an assortment of board games, or while-away a few hours watching a favourite DVD.
All our accommodation has been awarded Four Star by Enjoy England.
Certified child minders and baby sitters are locally available and can be booked in advance.
Please note: All our wedding packages includes accommodation for 18+2 guests unless stated. Please talk to us if you require additional accommodation as there may be a charge.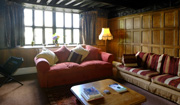 Drawing Room
The spacious, historic drawing room has beautiful Jacobean wood paneling. There is a huge C16th oak-framed window that looks out into the lovely fortified garden. The room has several comfortble sofas, a walk-in wine store and drinks cupboard next to a roaring open fire.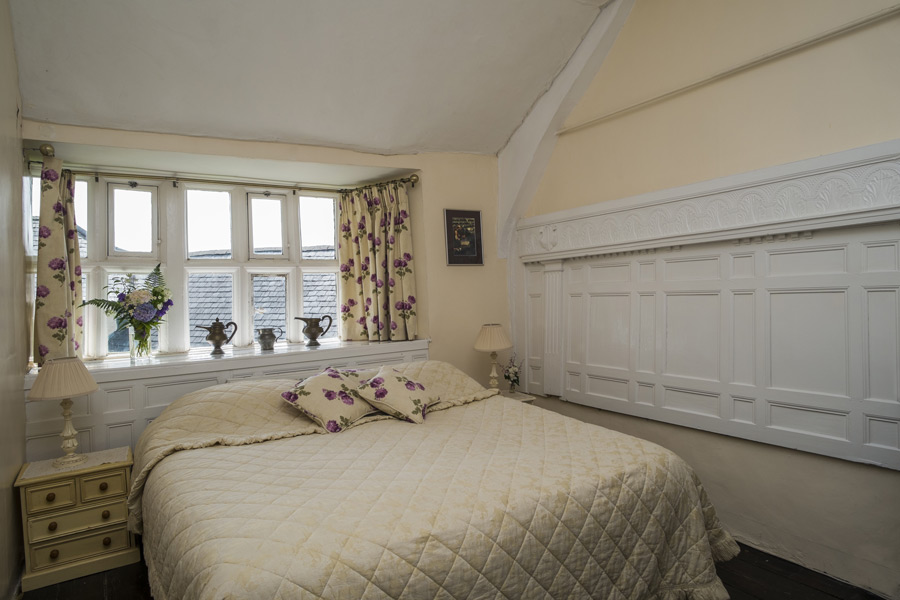 Bedrooms
Middle Coombe farmhouse has 7 bedrooms including 3 doubles with en-suites and a family bathroom. The bedrooms are all lovingly decorated with many period features and antique furniture. All our twin beds can be converted into very comfortable double beds by way of zip lock mattresses. There is also an option of 2 further beds in bedroom 3 and 5.