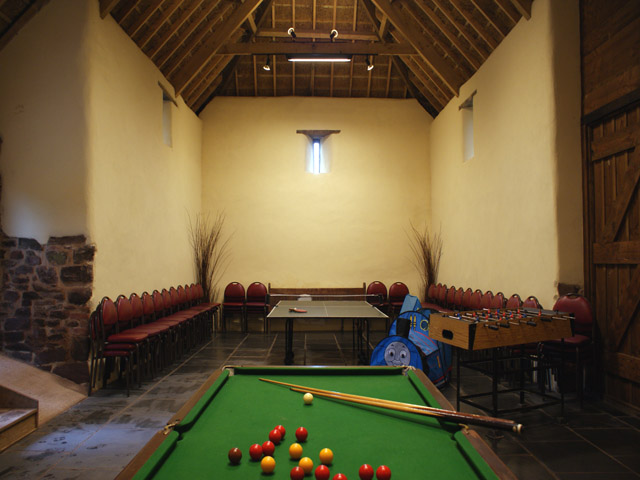 Activities in the renovated barn
We have a slate floor in the barn which keeps the barn beautifully cool in the hot summer months and warm with underfloor heating in the coldest months. A great place to just hang out and get into the spirit of the half sized pool table competitions, tennis table tournaments, and table soccer games. We have seen families involved in major league competitions for the entire week with a prize giving night at the end.
The younger ones might like to take over the other end of the barn as a performing arts studio for putting on a show for their elders they use the dressing up boxes from the house for their costumes. Chairs similar to a theatre are set up and the spotlights go on…….
Whether you fancy a quiet weekend break in Devon, propped on a comfy sofa reading a book from the well stocked shelves; enjoying a stout walk in the extensive acres of Devon woodland; playing the children's and grown-ups games; or a bike ride to a local pub, Middle Coombe Farm has something for you. We have extensive grounds with a large diversity of natural as well as cultivated features. We introduce new facilities and project each year and have always a new talking point for visitors every season!
Outdoor Solar Heated Swimming Pool.

We are very lucky to offer a sizable outdoor swimming pool to our summer quests. The pool is discretely set among our gardens and has a vibrant display of flowers surrounding it in spring and summer! For more pictures and information about the swimming pool please click here >>
Beachcomber Hot tub
From this year we are delighted to have one of life's most desirable luxuries – an out door hot tub. It can seat 6 – 8 people in it at a time and is right next to the swimming pool. The feedback from guests  is that is adds a touch of luxury specially for those who can not swim. The strong and powerful massage jets send you off to a world of relaxation beyond the imagination – complete and utter bliss.
Activities inside the house
It's night time, a rainy day, or perhaps you just fancy curling up in front of a log fire inside in the warm. Do not worry, you will not be bored at Coombe. There is a piano in the main house, tuned to concert pitch, an very extensive library, a dressing-up and games room with plenty of board games, TV, DVD, set top box, broadband, and a large portfolio of a collection of photographs from India, the Tibetan Himalayas and Bangladesh taken by the owner and world renowned Photojournalist, Tim Malyon.
Activities outside the house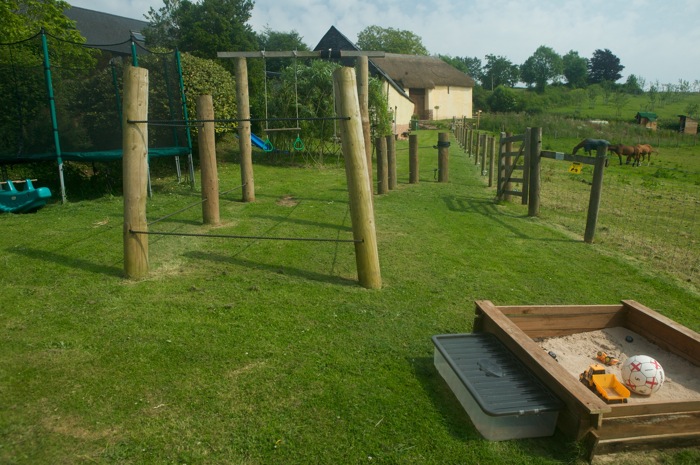 We have a sand pit, Trapeze, Willow Dome, Trampoline and swings – but please be aware that their use is at your own risk – we are not responsible for any injuries which may happen! Children must be supervised at all times.
Middle Coombe farm woods are full of interesting a beautiful walks from a quick stroll to a hearty expedition. Visit our 'Gardens and Beyond' page to learn more.
Walking – see the
Natural England
 website for maps.   Sailing, Windsurfing, Canoeing, Kayaking, Rowing & multi activities for groups –   Wimbelball lake (30 mins from M.C.F.) tel: 01398 371460,
www.swlakestrust.org.uk
Mountain biking – we can recommend a local cycle hire company who deliver and collect bikes at very reasonable rates Horse riding – Exmoor Golf – Tiverton & Credition
www.downescreditongc.co.uk
tel: 01363 773025 A canal ride – Tiverton
www.horseboat.co.uk
or tel: 01884.253345 Exmoor National Park
www.exmoor-nationalpark.gov.uk
Fishing – John Dawson leads guided days for the less experienced and runs corporate days and fishing birthday parties visit
www.johndawson.co.uk
or tel: 01398 331498 e-mail:
info@johndawson.co.uk
For information about fishing near here without John's expertise input call here on 01884 821176 and ask to speak to Angela.