Middle Coombe farmhouse has 7 bedrooms including several doubles with en-suites. The bedrooms are all lovingly decorated with many period features and antique furniture. and all have thick pocket sprung mattresses, feather duvets and pillows and 100% white cotton bedlinen and towels
There is also more space in the adjacent Allensdown Barn with its 3 bedrooms, bathroom and shower room, own lounge, large kitchen - which can only be booked with the farmhouse for total exclusivity.
Many of our beds can be set up as either singles or kingsize and some rooms can be interlinked making them perfect for families. All our twin beds can be converted into very comfortable kingsize beds by way of zip lock mattresses.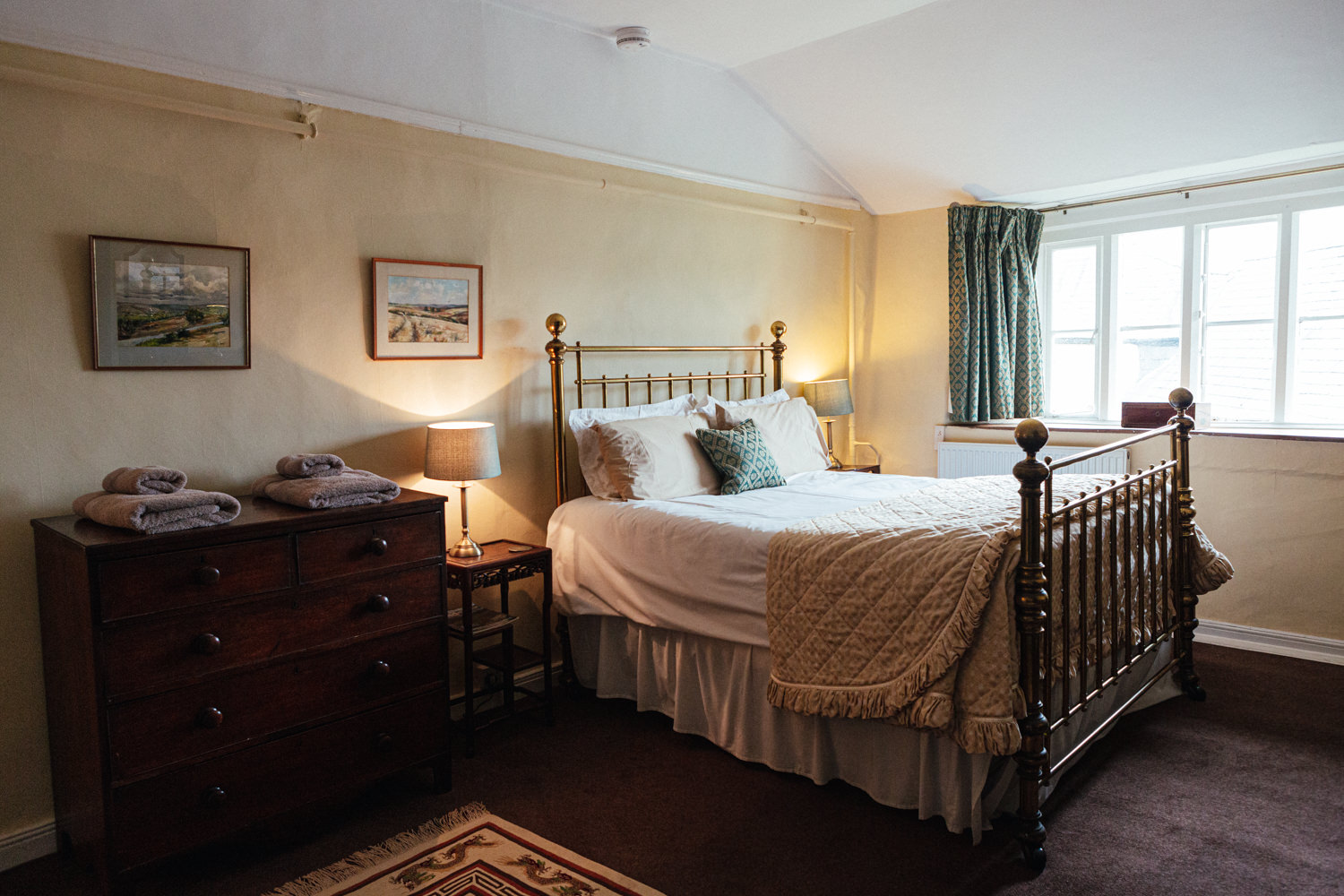 Bedroom 1: The Brass Bedroom
A spacious en-suite room which sleeps 2 in a kingsize double brass bed. This room has great country views when lying in bed and has lovely morning light. The en-suite has a view over the garden to the swimming-pool and woodland. Sleeps 2 in a kingsize double brass bed.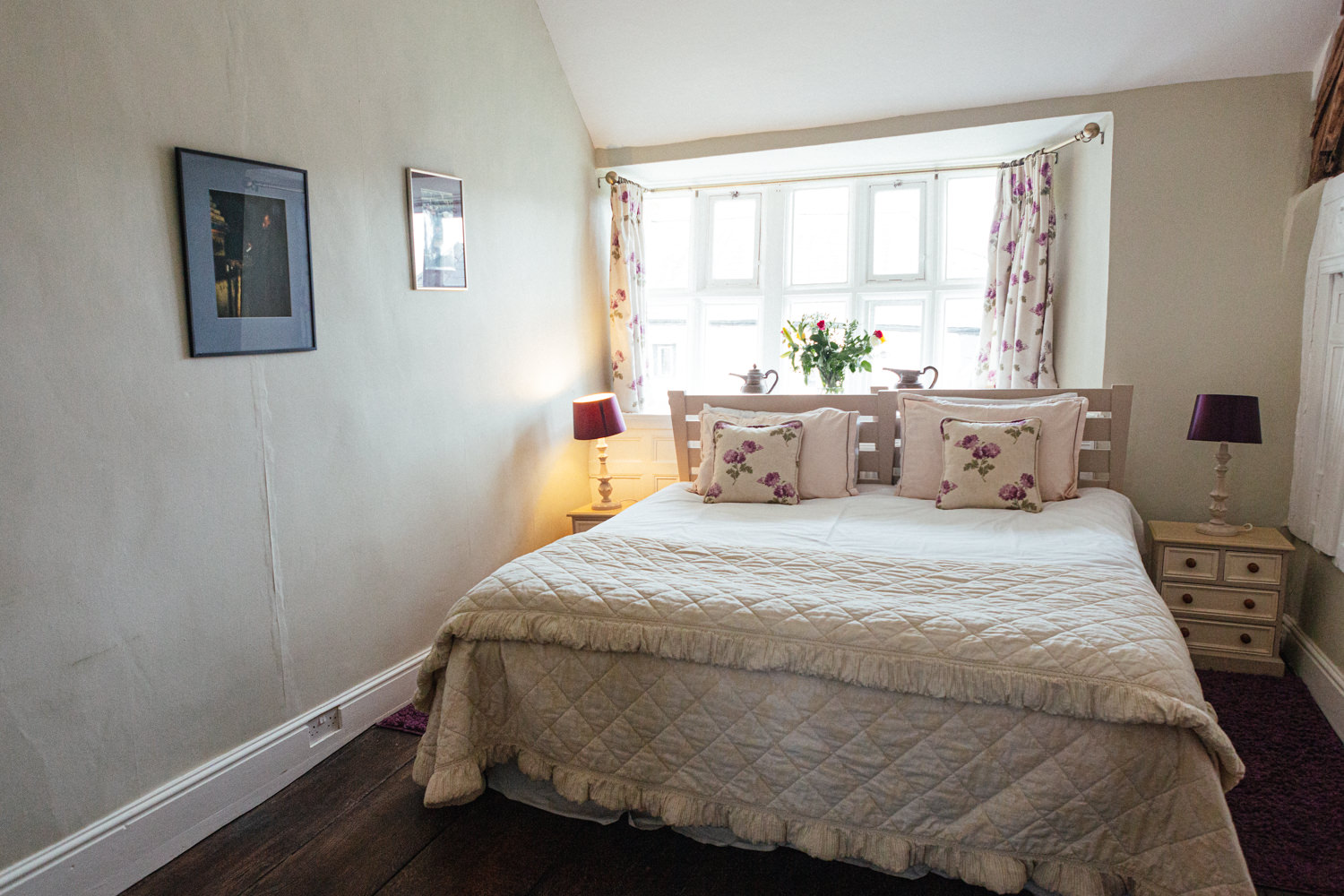 Bedroom 2: The Oak
The Oak Bedroom boast beautiful ancient paneling on one wall and it is immediately obvious why we call it the Oak Bedroom. This room sleeps 2 either in two single beds or as a double. It is equipped with a vanity basin and the main bathroom just a couple steps across the landing.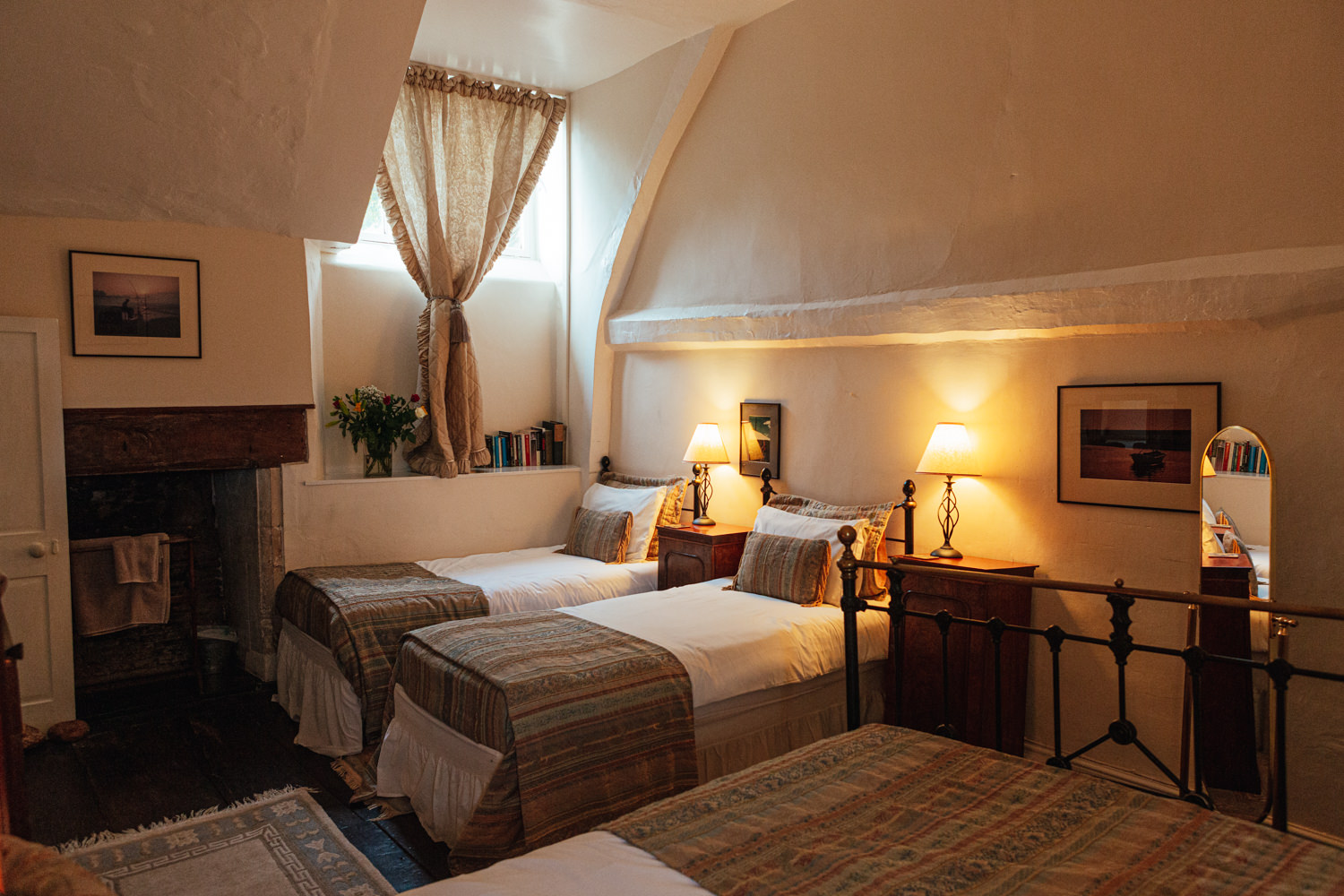 Bedroom 3: The Family Room
The family room has a high ceiling and huge oak floorboards with 2 single beds and 1 double brass bed making it perfect for families.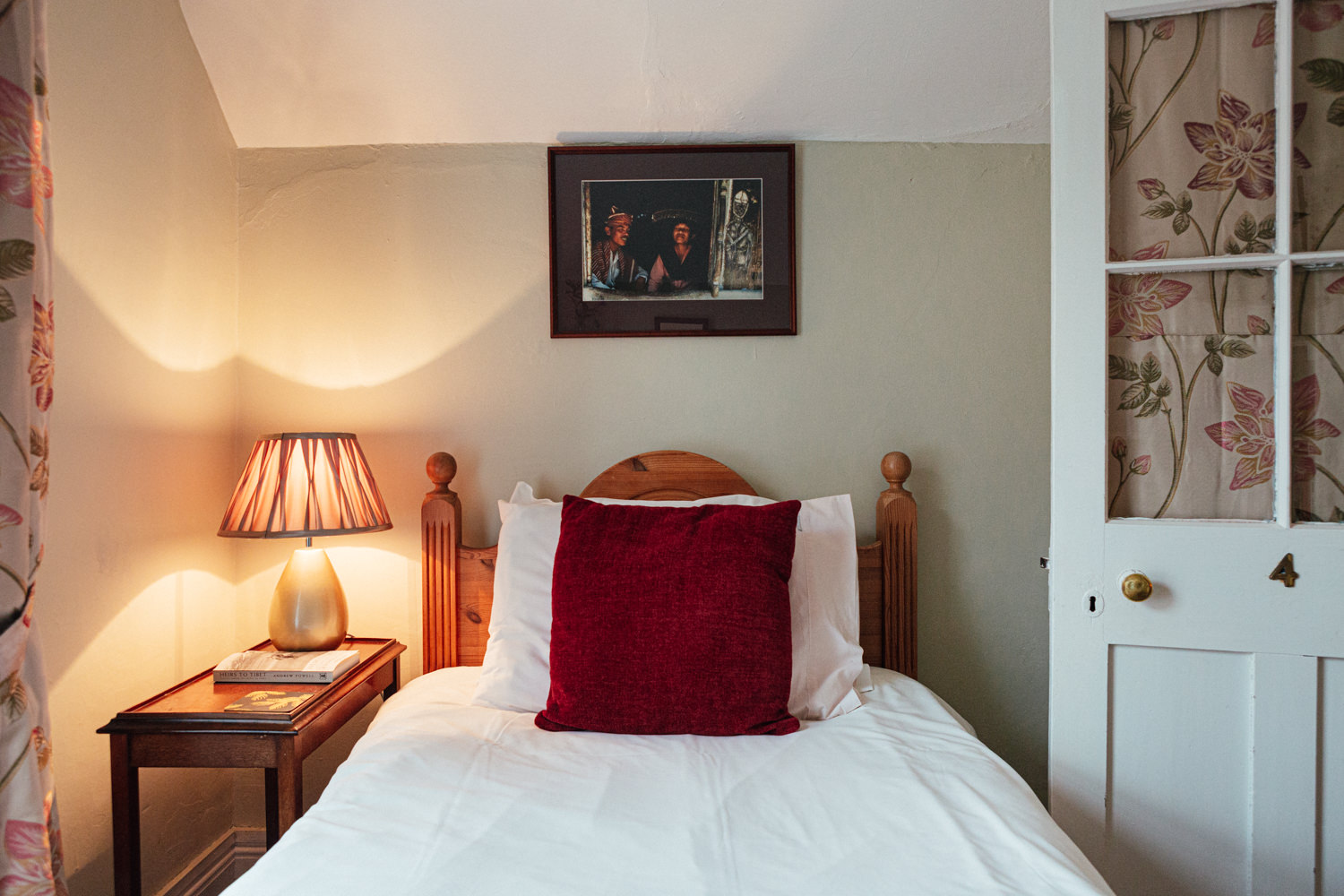 Bedroom 4: The Snug
Through the family room there's a snug bedroom above the porch which sleeps one. It's also the perfect place to have a birds eye view of who is entering and leaving the house!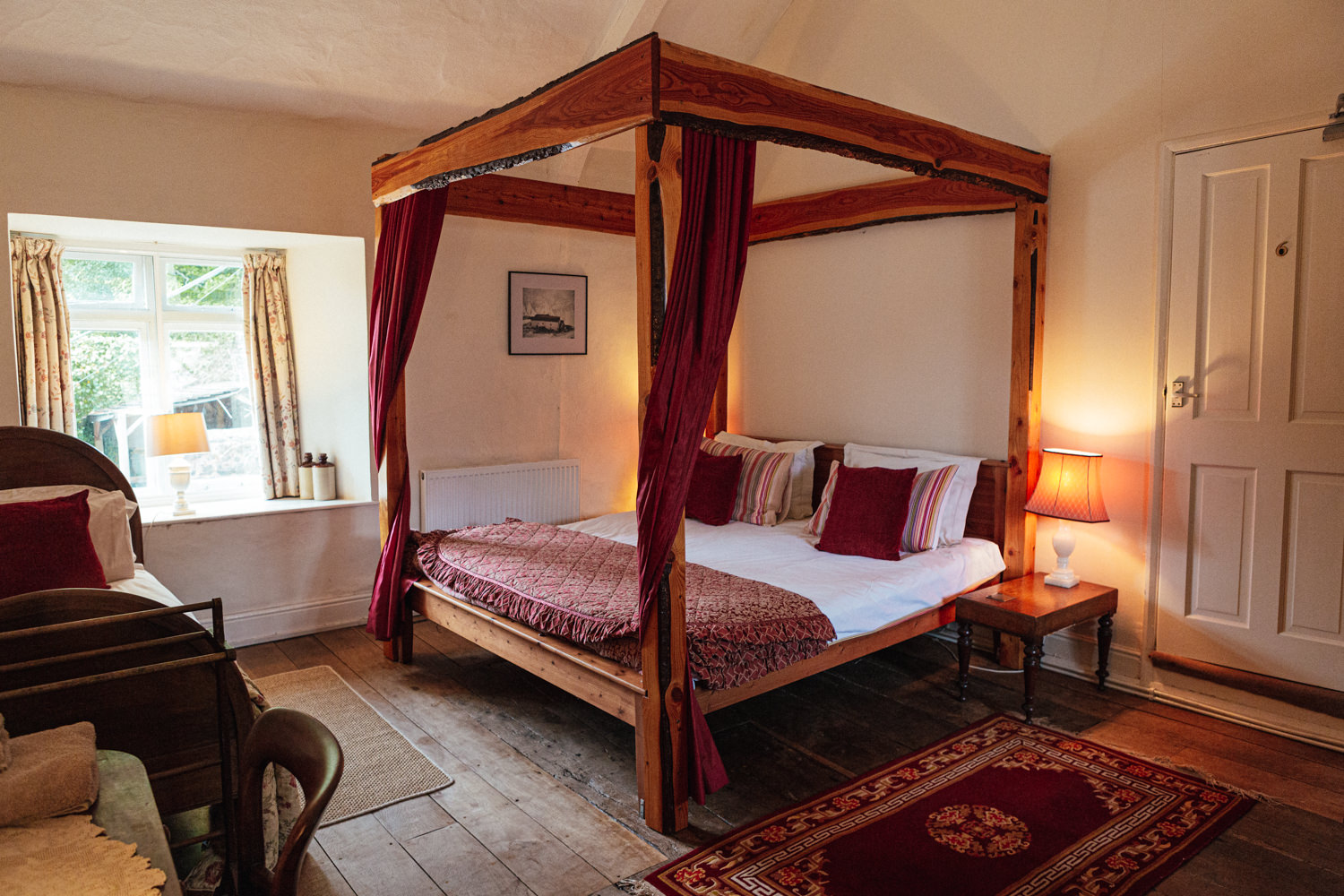 Bedroom 5: The Master's Bedroom
This is the largest bedroom in the house, containing a super king four poster bed and charming period day bed. The south-facing window in this bedroom is original 16th century and looks like it has come straight out of Bilbo Baggins' house in Lord of The Rings. Sleeps 3.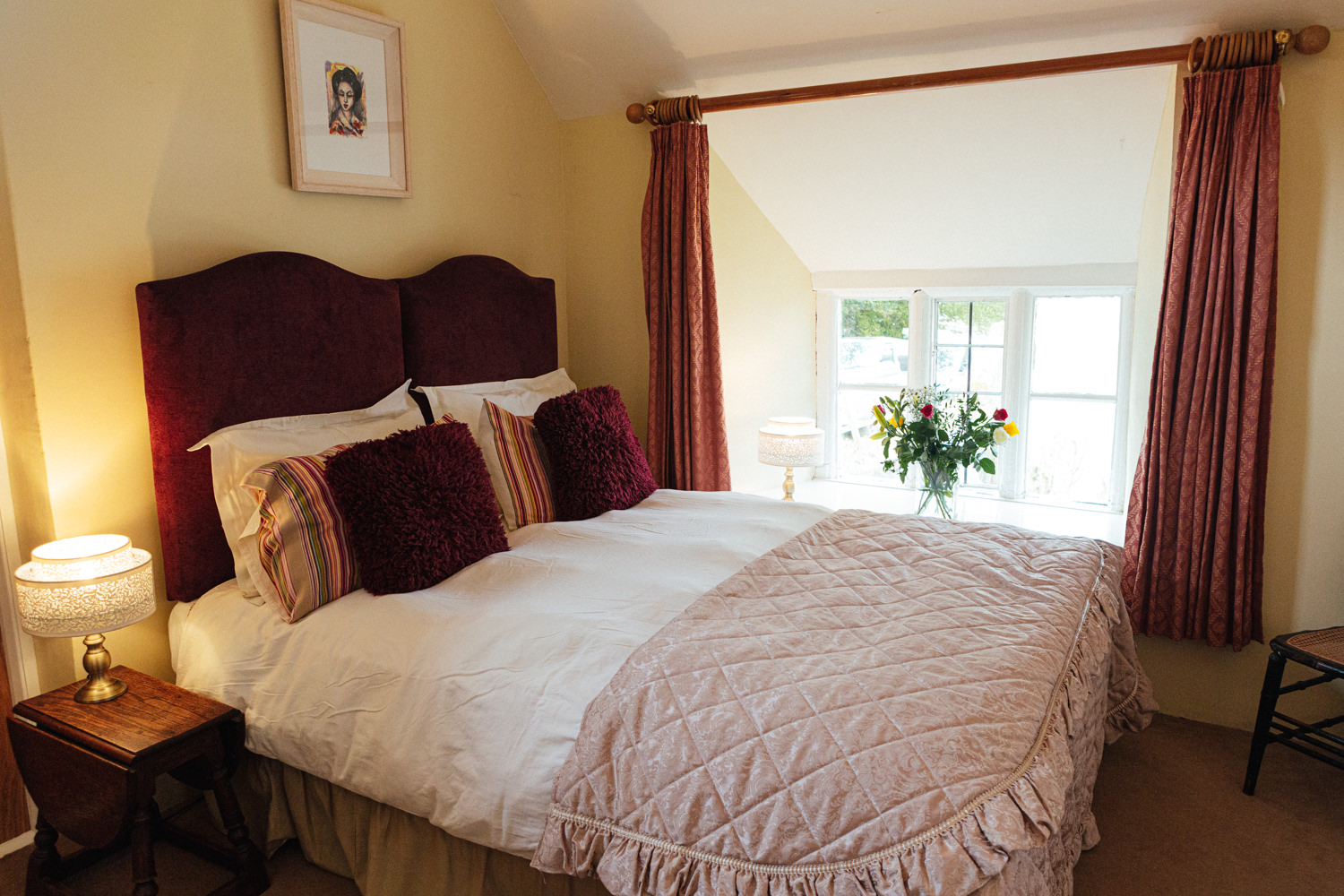 Bedroom 6: The Gentleman's Dressing Room
The master bedroom is at the end of the house and has it's own en suite. Being at the end of the traditional long house, this room can be accessed through the Family room and Bilbo's bedroom but also has a private entrance from the lane - perfect for sneaking out for a midnight stroll.
This room can accommodate a double bed or 2 singles (single bed size. 2'6" x 6'. Suitable for children).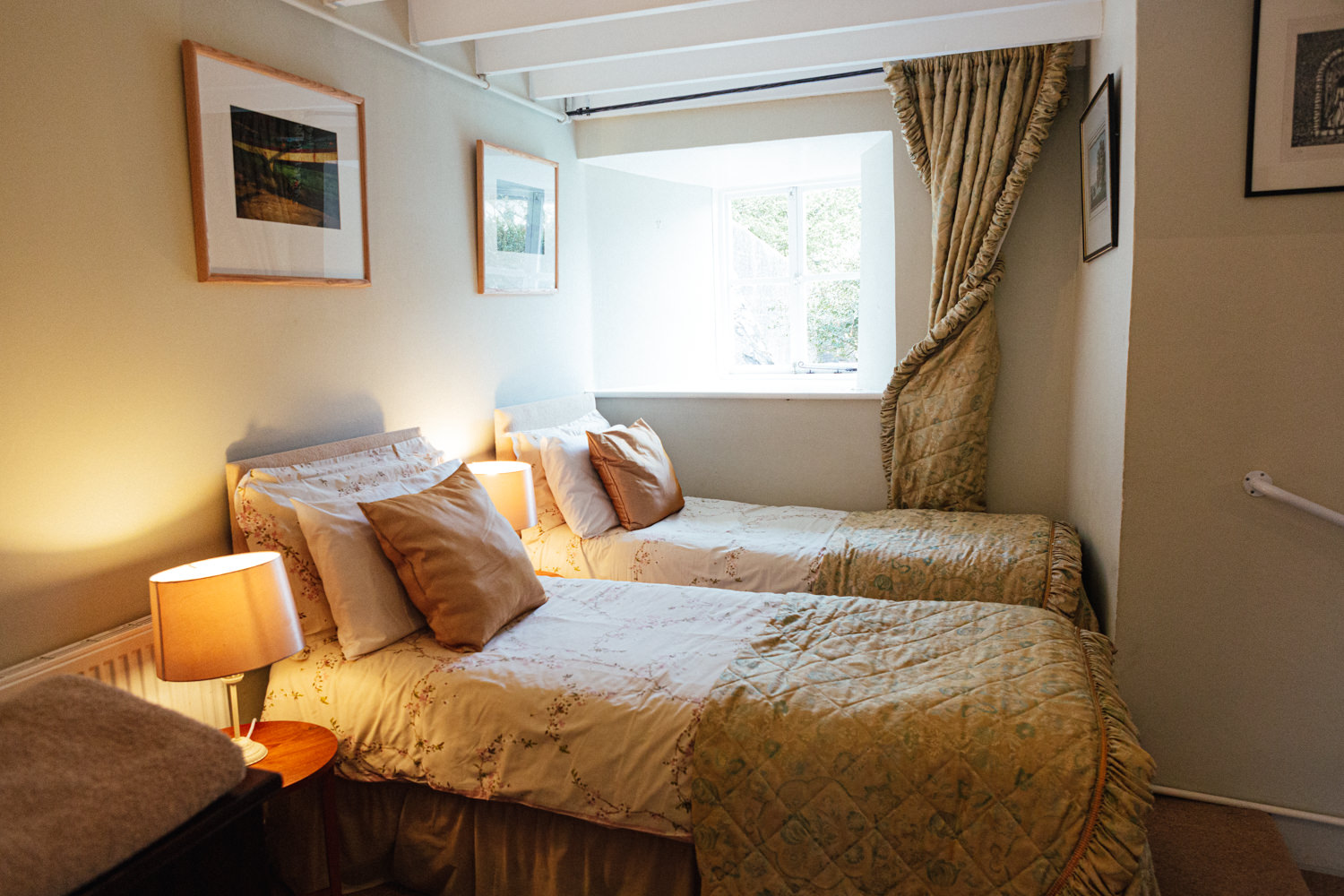 Bedroom 7: The Green Room
Downstairs beyond the library there is the downstairs bedroom, sleeping either two singles (single bed size. 2'6" x 6'. Suitable for children ) or 1 double, with its own toilet, washing machine and spin drier, en-suite shower and views out into the back courtyard and front garden. Sleeps 2.