Middle Coombe Farm is a unique venue. It combines historic charm and hundreds of years of tradition with informality and a joyous atmosphere to provide the perfect natural setting for a wedding.
As a self-catering venue every couple can put their own unique take on their wedding day so every wedding is completely personalised. It is one of many great attributes you experience when celebrating your union at Middle Coombe Farm.
The farm and woodlands rest in a beautiful valley, this makes Middle Coombe Farm superb for outdoor weddings. The restored cider barn is used all year round for formal and very relaxed weddings and events in combination with the outside spaces and marquee (the marquee is used from Spring through to the Autumn). We have hosted weddings for seven years and there is one thing we hear again and again… our guests love the professional approach of our experienced Middle Coombe Farm team together with the special and relaxed attitude of the Grade II* listed venue. We want you to feel Middle Coombe Farm is totally yours for your celebration and stay here.
We cater for a number of wedding types and ensure they are all as environmentally sustainable as is possible. As well as a wedding venue we are also a woodland trust. This means ecology and sustainability are at the heart of everything we do. All weddings are weekend based from Friday through to Monday as we have proven that wedding couples get the best value for money and time being able to spend those special moments with all your family and friends for set up, wedding celebrations and wrapping up, having fun all the way. The farmhouse and newly restored Allensdown Barn combined sleep up to 20 people for accommodation for the wedding weekend.
Below are some typical wedding examples.
Winter Weddings: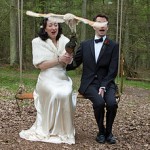 Winter wedding are very small and intimate usually up to 40 guests. The thatched Cider Barn and adjacent bar are available for your wedding celebration. Weather permitting you can choose to use the beautiful ancient woodlands ceremonial site. Delicious, locally sourced, warm winter food for your wedding feast can be arranged using our recommended caterer. Included in your package is accommodation for up to 20 guests for the weekend making this a truly special family and friends gathering.
Small Weddings: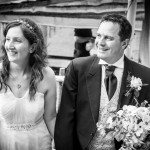 Small weddings are becoming increasingly popular for a large number of reasons. They are more intimate, and relaxed which can be very attractive for busy couples or those looking for a more personal event. Couples with children find this particularly attractive as the children are really included. Mature couples and couples who don't want a big "do" love the small intimate affair.  They are less stressful to organise and are less expensive than a larger wedding. Many couples find that a small wedding gives them more time, money, and opportunity to get their big day perfect and exactly  right for them. Lots of couples love the idea of a family/friends weekend "away" with a wedding included making it very special weekend for all concerned.
Civil Partnerships & Same Sex Weddings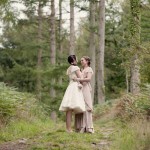 We are very happy to welcome civil partnerships ceremonies and same sex weddings. We have always been described as a "haven" where guests feel very comfortable with the openness of all the staff at Middle Coombe Farm. Whether it is a small wedding or large wedding you are considering, we are a licensed, residential venue so your whole event can take place at Middle Coombe farm. The details to refine and tailor your wedding can be talked through well in advance to ensure you get the best out of your special day and weekend with family and friends.
Alternative Weddings: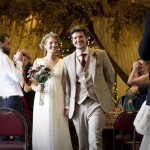 For some couples a conventional wedding isn't suitable. This can be for various reasons to do with taste, religion, culture or simply a desire for something novel. Whether you have a specific religious need or you are looking for something different we have a wealth of experience and resources to help. If you have a browse of our website you'll see that Middle Coombe Farm is much more than a traditional wedding venue. Along with our woodland, working organic farm and expansive grounds we also have a large network people who can offer a variety of skills and services.
Woodland Weddings, Outdoor Weddings, Natural Weddings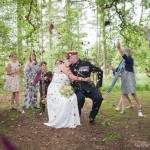 Whilst the 'legal' marriage service must be held indoors by law, weather permitting there's a beautiful glade under the oldest oak tree in the forest where more personalised ceremonies are held. We are in contact with /experts in ancient marriage rites, humanists, celebrants, interfaith etc. who are happy to advise on and/or perform the ceremony – please see our ceremony page. Some wedding couples write their own vows and conduct the ceremony themselves and other wedding couples have opted for a "friend" to do it for them. Any of these ceremonies are truly magical in such a natural site, please take the time check out our Facebook page to see photographs of our recent glorious brides and grooms and to see the venue. Do read the testimonials for the woodland weddings – they are really magical. It is a ten minute walk up through the woods to the oak tree, sometimes with treasure hunts set up for the children on the way. Being out in nature helps everyone to be in the same spirit and it brings a lovely sense of excitement to such an important occasion.
There is another area where you can have an outdoor ceremony which is adjacent to the barn, "The Stone circle" with a fire in the center is a great alternative– space for an outdoor ceremony; the back doors of the barn lead down to the Stone circle.